WE DEMAND: DROP the CHARGES NOW
Next hearing: September 28, 2600 S California Ave, Room 206, Courthouse Rally

8:30 am

-- Hearing starts at 9:30 am
IGGY & ALFREDO STILL FACING FELONY CHARGES FOR
PROTESTING POLICE MURDER & TERROR—
WHILE BRUTALIZING COPS NEVER GET CHARGED WITH ANYTHING!!!
Chicago Revolution Club at Black
Friday
protest, November 2015. 
Photo:
www.revcom.us
It has been 22 months since Iggy and Alfredo were brutalized and arrested for protesting the decisions not to bring charges against the police who murdered Mike Brown in Ferguson and Eric Garner in NY. This was before police in Baltimore murdered Freddie Gray and then got off. Before Cleveland police murdered 12-year-old Tamir Rice and got off. Before police in Baton Rouge murdered Alton Sterling. Before police in Minnesota killed Philando Castile. Before police in Tulsa killed Terence Crutcher. Before police in Charlotte killed Keith Lamont Scott and before police across the country killed thousands more!!
Yet who is being prosecuted and faces felony charges and many years in prison? The police who committed these crimes? The prosecutors who aid and abet them in getting off? The agencies and people in authority who cover up the police crimes? No. It's the protesters who face felonies.
David "Iggy" Rucker and Alfredo Reyes were absolutely right to be out in the streets protesting that day. If it were not for people like them taking to the streets all across the country, many people would not have been awakened to the horror of police murders.
It is a complete travesty that Iggy and Alfredo continue to face these charges at all. Iggy and Alfredo were at a noisy, peaceful protest. In fact it was they who were brutalized by the police. To add insult to injury they have been forced to go to court over and over as the prosecution drags their feet in releasing the discovery sought by the defense. And who is going to preside over this railroad? An op-ed by Nicole Gonzalez VanCleve in the New York Times pointed out, "the rottenness is not confined to the Police Department. Racist practices extend far into the criminal courts, indeed they are the very foundation of the cases that enter into the court system. The hands of many judges and prosecutors are just as dirty as the bigots in blue." (NY Times, "Chicago's Racist Cops and Racist Courts" by Nicole Gonzalez Van Cleve, 4-14-2016).
Now is the time to go on the offensive and for everyone to demand that ALL charges against Iggy and Alfredo and ALL the protesters be dropped and that the CPD stop targeting key activists! A political and legal battle needs to be waged to make this happen and all people of conscience need to get involved in this. We cannot let the brave protesters be railroaded on bogus charges.
Iggy works with the Revolution Club of Chicago and has been very visible in protests to stop police murder. He has been targeted by the police for retribution. The Chicago Sun-Times revealed that the Revolution Club of Chicago and others were the targets of police spying during the same time period when Iggy was arrested.
WHAT YOU CAN DO
PACK THE COURTROOM NEXT HEARING
Thursday, September 28, 2600 S California Ave, Room 206 at

9 am
Facebook Post Used to Justify Setting $350,000 Bail for Arrested Black Lives Matter Activist Ja'mal Green in Chicago
September 26, 2016 | Revolution Newspaper | revcom.us
There is an important legal case in Chicago that, if allowed to stand, could set a very dangerous precedent nationally for not only violating due process, but for allowing the police, prosecutors, and the courts to use bogus legal charges and exorbitant bail as repressive instruments against protests and other legally protected forms of exercising First Amendment rights, and more fundamentally, against movements of resistance and revolution. This political act of repression cannot be allowed to set a precedent—everyone who stands for justice must be part of defeating it
Nationwide, police continue day after day to murder and terrorize Black and Latino people, enforcing the system's genocidal program, and they are almost never punished. But people who protest this police terror are brutalized and arrested, and there is a growing pattern of heavy charges being put on protesters for the "crime" of demanding that police murder stop. In Chicago a very visible young activist against police murder, Ja'mal Green, is facing nine felony counts for leading a peaceful protest

July 9

against the police murders of Alton Sterling and Philando Castile, at the Taste of Chicago, a major event downtown. Fellow protesters say the police version of events is completely untrue and that they just grabbed Ja'mal unprovoked. A 

video

 shows him standing on a barricade when a cop grabs him by the leg and pulls him to the ground

. 
read more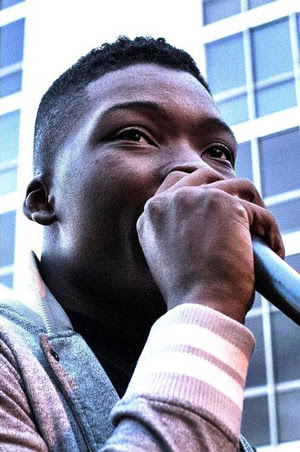 Ja'mal Green
(Photo: Twitter/@JaymalGreen)
Do you like this post?
---